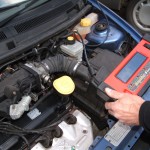 Problems with the Electrical System of your vehicle can reduce its performance and fuel efficiency. Poor performance and fuel economy will cost in you the dollars you spend on extra fuel.
Maintenance of the electrical system in your vehicle requires expert care. The service professionals at Joe's Car and Truck Repair have a comprehensive understanding of the complexities of your electrical system. We are trained in diagnosing, repairing and replacing the electrical components in your vehicle.
Today's vehicles have electrical systems that operate many components that ensure your vehicle is running well. These components include many pieces of computerized equipment including the starter, alternator, heating system, air conditioning, gauges, lighting, cruise control, warning signals, and battery, as well as the power windows, steering, doors, locks, and seats.
The main control behind your vehicle's electrical system is your battery. It generates all of the power needed by the operational components of your vehicle. These components are connected much like a web. The fuses, wires and relays connect to carry the power from the battery to all of the other equipment in your vehicle. If your wires and fuses are not working properly, they won't be able to provide the necessary power from the battery to the equipment. Your alternator powers all of the accessories in your vehicle. While the battery provides the initial power, the alternator takes the power and uses it to provide a constant feed of electricity to your accessory components including your warning signals, radio and lights. Your alternator also recharges your battery whenever it loses some of its power.
It is vital to have your vehicle's electrical system checked on a regular basis. This will help you to address any small problems before they turn into big repair jobs. The professional service people at Joe's Car and Truck Repair are specially trained in maintaining, diagnosing and repairing your electrical systems. Feel free to contact us with all of your electrical concerns. We would be happy to provide you with all of the information you need and to perform any Electrical System Repairs  Call us today!