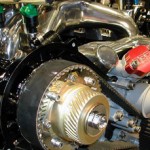 It's the transmission in a vehicle that enables the Engine to move the automobile ahead and back at different speeds. Vehicles are equipped with either a manual or an automatic transmission. Manual transmissions depend on the driver to shift gears and automatic transmissions does the shifting for the driver. Both of these transmissions are complex systems that need an expert with high quality equipment to accurately diagnose, repair and maintain them.
At Joe's Car and Truck Repair we have all of the expertise needed to work on your transmission, whether it needs a check up or a repair. We use only the best tools to diagnose and repair any malfunctioning parts of your vehicle's transmission.
Serving the Colorado Springs area, our extensive experience and expertise in engine repair make us the best auto repair center around. We strive to solve all of your engine problems and ensure that you are completely satisfied. We understand how important your vehicle is and we want to ensure that your car, truck or SUV is working properly and safely.
If you need a warranty check up or have a major problem with your engine, our trained technicians can take care of you. We are here to provide you with an extensive list of engine services including inspecting your engine's components, installing new spark plugs, replacing fuel and air filters, changing your oil, and removing carbon deposits on your fuel injectors. We'll diagnose and make repairs to your fuel pump, crank case, vapor canister, ignition wires, pcv valves, distributor rotor and cap, engine sensors, and coil pack.
Whether your vehicle is making odd noises, leaking fluid or have something broken, we are here to help. Our trained technicians are certified to repair your domestic or foreign vehicle. We'll inspect, diagnose and repair any engine parts that are not operating properly. On most repairs we'll give you same day service. At Joe's Car and Truck Repair we also have free internet access for you while you are waiting. We'll have you in and out in the shortest amount of time possible. Call us today to make an appointment for your vehicle's Engine Repair Service.