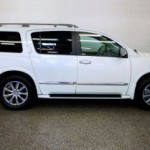 The Infiniti corporation was launched as a division of Nissan in 1990. The company started with the M30, the Q45 and the G20. Infiniti offers a blend of luxury and performance in its cars and SUVs.
Throughout the 90s Infiniti continued to add more models to its lineup. The sport version of the Q45 sedan came with a V8 engine, an active suspension and state of the art technology. By the end of the decade, the QX4 was being produced. It provided impressive off road capabilities in a SUV frame.
The Infiniti brand reach high sales records but was not able to develop the popularity of other luxury automobile manufacturers. Early in the new millennium, the company began to focus its plans on upgraded models. Infiniti was able to make a larger marque on the luxury market with the G35 that was brought out in 2003. Soon after the FX35 and the FX45 came out, offering car buyers an SUV with versatility, sporty handling and athletic acceleration.
The present models manufactured by Infiniti include the EX crossover, the FX, the G in coupe, sedan and convertible body styles, the JX crossover, the M sedan and the QX SUV. For environmentally conscious car buyers, there is also a hybrid vehicle. The M Hybrid is the first hybrid produced by the company. The EX crossover comes with many standard components including remote start and entry, leather upholstery, and satellite radio. The FX has a sunroof, a Bose sound system, leather upholstery, remote entry and ignition, a rear visibility camera and many safety features. The G has three body styles and several trim options. It gets leather upholstery, xenon head lamps and remote entry and start. There are many other optional features available. The seven seater JX SUV has a sunroof, remote ignition and entry, leather upholstery, heated front seating, satellite radio, and a rear view camera system. The M sedan offers heated leather seating, a sunroof, a rear visibility camera, remote entry and ignition, and an abundance of safety components. The QX provides heated retractable mirrors, a power operated lift gate, a sunroof, rear and front park sensory, remote entry and start, a tri region air management system, voice command navigation, a Bose sound system, and satellite radio.
Joe's Car and Truck Repair provides the best Infiniti Repair & Service in Colorado Spring, CO. We know that making maintaining and making repairs on your Infiniti vehicle can become costly. Our ASE trained service professionals can inspect your vehicle and quickly diagnose any problems you might have. We'll do the repair with only top quality products and have your safely back on the road in no time at all. Call or email us today.