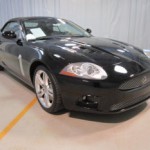 Jaguar is known for its sporty yet elegant vehicles. The Jaguar brand was created by William Walmsley and Bill Lyons in 1922. The brand started out in Blackpool, England as the Swallow Sidecar Company, a manufacturer of sidecars for motorcycles. In 1933 the company became SS Cars Limited when focus of the production changed to the creation of automobiles. Two years later the Jaguar name was attached to the SS Jaguar 100.
At the end of WWII, SS Cars changed its official name to Jaguar. In 1948 it rolled out the Mark V sedan and the XK 120 sports car. During the 50s Jaguar started to export its automobiles to the U.S. The Mark VII Saloon became popular with the American public along with the Mark VIII and the Mark IX. In the 60s Jaguar debuted its E-Type sports car. It could be purchased with either a coupe or convertible body style. The model offered polish and performance.
The XJ6C and the XJ12C coupes were unveiled in the 70s. The performance capabilities of Jaguar models continued to develop into the 1980s. At that time problems with dependability began to arise. In 1990 the company developed a partnership with Ford in order to raise the capital needed to improve the quality of its automobiles. Jaguar launched the XK8 and the XKR sports car in 1997, both powered by the innovative AJ-V8 engine. Not much later, the more affordable X-Type compact sedan was introduced.
Jaguar presently produces the XF, the XJ, and the XK. The XF sedan has four trims options and comes with a sunroof, heated leather seating, rear park sensory, remote entry and start, voice command navigation, Bluetooth connectivity, a touch command display, satellite radio and iPod interface. The five passenger XJ sedan has two model choices and offers a rear visibility camera system, power retractable mirrors, front and rear park sensory, a sunroof, remote entry and start, cooled and heated seating, leather upholstery, voice command navigation, satellite radio and iPod connectivity. The XK has three model options, all of which can be purchased with either a coupe or convertible body. The XK provides remote entry and ignition, power retractable mirrors, a rear view camera, rear and front park sensory, a touch command display screen, Bluetooth and iPod connectivity, and navigation technology.
At Joe's Car and Truck Repair we're staffed with ASE trained service professionals who have the expertise to work on any domestic or foreign automobiles. Our Colorado Springs Jaguar Repair & Service center can make your Jaguar service easy and have you back on the road quickly. We can also diagnose and fix any problems you might have. If you need financing for your maintenance or repair work, speak to one of our friendly staff members about the options we have available.