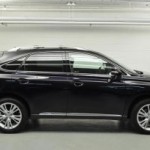 Lexus is well known for its vehicles that provide ell constructed interiors, plush detailing, a quiet riding experience and high performance. The Lexus brand is the luxury car division of the Toyota Corporation which is located in Toyota City, Aichi, Japan. Founded in the late 80s, the first models it produced were the ES 250 and the LS 400 sedans.
In the 90s Lexus expanded its product line to include the SC300 and the SC400 coupes along with the GS 300 sedan. By the end of the decade the brand also had the LX 450, the LX 470 and the RX 300 SUVs, and over a million Lexus models were sold in the United States before the turn of the millennium.
During the next decade Lexus launched hybrid versions of its gas powered models. The new hybrids included the GS 450h and the RX 400h. Since that time, Lexus has continued to provide dependable, quality construction in its vehicles.
Today the Lexus lineup includes the ES 350, the GX 460, the IS 250, the IS F, the LFA, The ES 350 sedan offers a sunroof, leather upholstery, twin region air management, as well as remote entry and start. The GX 460 SUV provides a choice of two trim options that come equipped with heated and cooled seating, leather upholstery, a sunroof, a power retractable third row of seating, Bluetooth and iPod interface and satellite radio. The IS 250 sedan comes with leather upholstery, remote start and entry, power adjustable seating and an audio system with thirteen speakers. The IS F sedan comes standard with alloy wheels, heated, power adjustable front seating, iPod and Bluetooth technology, and leather upholstery. The LFA sports car gets self cleaning head lamps, power heated seating, leather upholstery, iPod, Bluetooth and USB interface, and a twin region air management system.
The hybrid selection of Lexus models includes the CT 200h hatchback, the GS 450h sedan, the HS 250h sedan, the LS 600h sedan, the RX 400h sedan.
At Joe's Car and Truck Repair we know that maintaining and repairing your Lexus vehicle can be an inconvenient and expensive. Our center will perform all manufacturer services as well as do fluid flushes, rotate your tires, change your oil, repair your windshield or transmission and complete engine tune ups. The expert mechanics at our Colorado Springs Lexus Repair & Service center can quickly diagnose any problems with your vehicle, and have it running properly in a short amount of time. We can usually get the work done in the same day.
Joe's Car and Truck Repair wants your Lexus vehicle, new or used, to run well and keep you safe. Contact us today, by phone or by email.