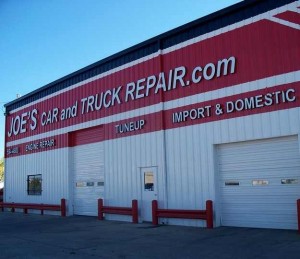 Summer is almost here and it's time for long drives to your favorite vacation spot. If you're in need of repair work to your vehicle to make the drive more comfortable, come in and visit the Colorado Springs Auto Repair and Service center offering the highest quality and most affordable servicing, Joe's Car and Truck Repair.
Our service experts are here ready to help you with any repair situation you might have. We know how difficult it can be to schedule a maintenance or repair appointment into your busy schedule. We understand how life gets busy. We know that it's hard enough to schedule in the most vital daily appointments, let alone extra visits for vehicle maintenance. We want you to be able to get the necessary maintenance and repair work done on your vehicle to be able to drive your vehicle safely and comfortably. Our mission is to ensure that you get the auto servicing you need. Whether you're in need of a regular factory servicing or need extensive work done to your engine, we've got the professional experts and equipment for your situation.
Come in and speak with us today. We'll be happy to sit down with you to discuss the service options we have to offer. We work hard to build strong relationships with our customers. We want you to be satisfied with our auto service and repair work. Our certified service professionals will do all of the inspection, diagnosing, repair and replacement work needed to keep your vehicle working at its optimal levels.
Call us to schedule an appointment or simply drop in to see us today. We'll take the time to speak with you in detail or we'll schedule a time that will work into your busy day. Joe's Car and Truck Repair is the Colorado Springs Auto Repair and Service center for the most affordable and highest quality servicing, bar none! Contact us at 719-323-6391 or online by clicking here.