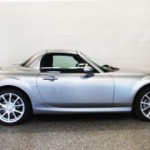 The Japanese automobile manufacturer, Mazda, produces high performing, affordable vehicles. Established in Hiroshima in 1920, Mazda started out as the Toyo Cork Kogyo Company. The first automobile under the Mazda brand came out in the 1960s.
The R360 coupe came out in 1960. In 1961 Mazda joined with Wankel and NSU to create rotary engines which led to the company being the first to be able to produce rotary, gasoline, and diesel engines. During the decade Mazda also brought out the 110S Cosmo Sport and the B-Series 1500 pickup.
Early in the70s Mazda started exporting cars to the United States. The first model was the RX-2 which offered an affordable and fun riding experience to the American car buying population. Later int the decade the RX-3, the RX-4 and the RX-7 were introduced. At the end of the decade Mazda sold a quarter of its corporation to the Ford Motor Company to resolve its burdensome financial problems.
Mazda saw an strong improvement in sales in the 80s due primarily to the success of the 323, and the 626. The affordable and responsive MX-5 Miata came out in 1990. It remains to be a top rated roadster even today.
The Mazda 787B was the first model produced by a Japanese automobile manufacturer to win the infamous Le Mans race in 1990. During the same decade, Mazda MX-5 Miata and the RX-7 continued to achieve high record sales.
Since the beginning of the new millennium, Mazda has made great efforts and investments in developing new automotive designs and technology. The CX-9, the RX-8, the Mazdaspeed and the Mazda3 are the results of their plan. CX-9 SUV comes with three trim options and offers alloy wheels, tri region air management, remote entry, a trip computer, comprehensive power components, Bluetooth connectivity, a CD player, and an audio system with six speakers. The RX-8 has three trims and gets speed control, a CD player. Memory capabilities, leather upholstery, heated seating, remote entry and start, Bluetooth connectivity, navigation technology and a Bose sound system are also available. The Mazda3 can be purchased as a hatchback or a sedan and with a choice of two trims. It provides steel wheels, power locks, windows and mirrors, air conditioning, and remote entry. The Mazdaspeed hatchback has one trim which offers remote entry, speed control, a trip computer, twin region air management, Bluetooth interface, a CD player, and a Bose audio system with ten speakers.
The experienced and friendly staff at Joe's Car and Truck Repair are proud to offer you the best Mazda Repair & Service in Colorado Spring, CO. We'll perform any inspections, diagnostics, maintenance, service or repairs you need done on your Mazda vehicle. Call or email to make an appointment with us today.