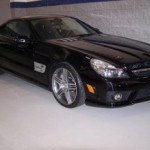 The Mercedes-Benz company is renowned for its craftsmanship and attention to luxurious detailing. Its sleek automobiles are known for being a symbol of status and achievement.
Karl Benz introduced his three wheeled automobile in 1886. The first of its kind, it was the named the Benz Patent Motor Car. Not long after, Wilhelm Maybach and Gottlieb Daimler developed a four wheeled automobile. In the early 1900s Merecedes introduced its first vehicle. It was constructed by Wilhelm Mayback and got its name from the daughter of the man who commissioned the work.
By the mid 20s, Daimler and Benz joined together to create the Daimler-Benz company, the producer of the Mercedes-Benz models. A laurel encircled star with three points became the brand symbol. From that point on the Mercedes-Benz name has been known for its craftsmanship and excellence.
Early in the 30s, the Mercedes-Benz 170 debuted, offering the innovative technology of an independent suspension. Throughout the 1930s and 40s, the 540K and the 380 were rolled out, and car buyers came to know the Mercedes brand as the brand that offered the best in luxury.
The 300 SL came out in the 50s, providing racing technology and state of the art styling. It is still sought after today by collectors around the world. At the same time, the Daimler-Benz company made huge gains in safety innovations, designing the 220 with the exclusive crumple zone frame that reduced the forces of impact in crash situations.
The polished, premium 600 was launched in the 60s and came with a V8 engine and an innovative air suspension. The 300 SEL 6.3 came out soon after with a powerful acceleration and high performance capabilities.
Mercedes-Benz developed the S-Class coupes and sedans in the 1970s. They provided strong engines and an abundance of premium features. Throughout the decade, the company also developed its ground breaking safety components, creating the first antilock braking system.
In the 80s Mercedes-Benz began offering traction control, airbags and a multilink rear suspension system in its 190 E model. The 90s brought about an increase in available power when Mercedes-Benz developed its alliance with AMG. The C36 AMG came out in 1995.
The present model lineup of the Mercedes-Benz brand includes coupes, sedans, roadsters, and SUVs including the B, C, CL, CLS, E, G, GL, GLK, M, R, S, SL, and SLK Classes. The current vehicles offer the exclusive Active Body Control, PreSafe brakes, Adaptive Highbeam Assist, Night View Assist, Active Blind Spot and Lane Keeping Assist technologies.
For the best Mercedes-Benz Repair & Service in Colorado Springs, CO, visit us at Joe's Car and Truck Repair. Our service professionals will inspect your Mercedes vehicle, diagnose any problems and make sure it's fixed properly; all at an affordable price. Contact us today.