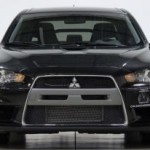 The Mitsubishi brand was established in 1870s by Yataro Iwasaki. Originally the company was involved in the shipping industry but developed its line to include automobiles in the1917. Today the Mitsubishi company produces SUVs and cars.
In 1960 the company introduced its Mitsubishi 500. Throughout the decade the company developed more passenger automobiles including the 360 pickup and van.
At the beginning of the 70s the company created the official Mitsubishi Motors Corporation. Not much later fifteen percent of the organization was sold to Chrysler. The Colt was developed and exported to the United States on the Dodge brand. By the end of the 70s Mitsubishi was building over a million of automobiles a year.
Early in the 80s Mitsubishi was using its own brand to sell its vehicles in America. The company went on to build the Starion, the Mirage, and the Galant. By the 90s the company had built a reputation for reliability and was increasing sales through the production of the 3000GT, the Eclipse and the Lancer Evolution.
In the late 90s Chrysler joined with the Daimler-Benz corporation, including the Mitsubishi corporation in its alliance. At the turn of the millennium, Mitsubishi was no longer financially joined to the alliance.
The next years were difficult for Mitsubishi, both financially and in production. Defects in its vehicles led to major concerns about the reliability of the brand.
Today the company is in the works of providing automobiles that are both fun to drive and environmentally friendly. The current brand lineup includes the Eclipse, the Gallant, the Lancer, the Outlander and the i-MiEV. The Eclipse comes as convertible or coupe. There are three trims on the convertible and four on the coupe. It comes standard with air conditioning, speed control, remote entry,
comprehensive power components, alloy wheels, a CD player and an audio system with six speakers. The Gallant sedan has two trims and offers steel wheels, speed control, air conditioning, full power components, an audio system with six speakers, and a CD player. The Lancer offers five trim options that come standard with a trip computer, steel wheels, complete power components, a CD player and four speakers. The Outlander SUV gets three trims that get roof rails, speed control, air conditioning, steel wheels, remote entry, fabric upholstery, audio controls on the steering wheel, a sound system with six speakers and a CD player. The i-MiEV hatchback comes with electric power and two trims. It offers steel wheels, air conditioning, a recharging system and charging cable, full power components, and a CD player with four speakers.
Visit Joe's Car and Truck Repair for the best Mitsubishi Repair & Service in Colorado Springs, CO. Call or email us today for an appointment.