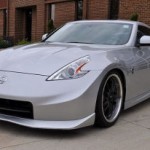 Established in Japan, the Nissan automotive manufacturing company is renowned for its quality craftsmanship and reliability. It builds minivans, coupes, trucks, sedans and SUVs.
Nissan began as the Jidosha Seico Company Limited in 1933. A year later Jidosha joined with a second Japanese automobile producer to create Nissan. The newly formed company began building vehicles with the Datsun moniker. After the war, Nissan developed a further alliance with the Austin Motor Company and began exporting its vehicles to America. One of the first exports was the Datsun 1000.
Nissan merged with the Prince Motor Company in the 1960s. This partnership led to the development of a more luxurious lineup. The Datsun 510 was offered in the United States. As the decade came to an end, Datsun had sent over a million automobiles to America. In the 70s Nissan became more popular through sales of its 240Z which offered an affordable six cylinder inline engine, performance within a well designed framework. At the end of the 1970s Nissan had exported over ten million vehicles to the U.S.
Early in the 80s the company discontinued the Datsun brand and started using the Nissan name. Around the same time it introduced its Nismo division which was created to develop higher performing automobiles. The 80s also saw the construction of a Nissan plant in the state of Georgia.
The debut of the Nissan Sentra, Maxima, and 300ZX led to huge financial successes for the company. Less than ten years later the company had lost much of its reputation and popularity. It was able to rebound in the new millennium, after aligning itself with Renault to improve its financial standing. The Altima and Sentra were reformatted and the 350Z, the Titan and Armada were introduced.
Nissan presently manufactures high quality, reputable automobiles including the 370Z, the Murano, the Leaf, the Maxima and the GT-R. The 370Z comes as a convertible or a coupe. The convertible has two trims and the coupe has three. The standard equipment includes heated mirrors, remote start and entry, alloy wheels, fabric upholstery, automatic air management,a CD player and four speakers. The Murano has a single trim that gets leather upholstery, heated front seats and mirrors, twin region air management, alloy wheels, a rear visibility camera, Bluetooth connectivity, and a Bose audio system. The Leaf electric powered hatchback has two trims and comes with remote entry and start, heated rear and front seating, iPod and Bluetooth connectivity, and Nissan Connection technology. The Maxima offers two trim options as well as a sunroof, twin region air management, remote entry and start, a long list of safety components. The GT-R sport coupe provides heated, power adjustable front seating, Brembo brakes, remote start and entry, satellite radio, Bluetooth and iPod interface, a CD player and a Bose audio system with eleven speakers.
Come in and see us at Joe's Car and Truck Repair for outstanding Nissan Repair & Service in Colorado Springs CO.