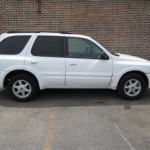 The Oldsmobile brand is owned by the General Motors Corporation and has been existence for more than a century. The founder, Ransom Olds, worked for his father in an automotive shop where he gained the experience to create vehicles that were powered by gasoline. In 1897 Olds started the Olds Motor Vehicle Company. By the turn of the century, Olds was developing more premium automobiles including the Curved Dash.
By 1908 the company was purchased by General Motors and was turned into the Oldsmobile decision where it developed its focus on luxury cars. The Model 42 rolled out in the 1915. Three years later the Model 37 came out. It provided car buyers with an enclosed frame that provided more protection for the occupants.
In the next decade Oldsmobile introduced another popular automobile, the Model 46. It came with seating for seven and a V8 engine. Oldsmobile also developed its innovative chrome plated detailing around the same time.
The 1930s brought about affordably priced vehicles with an independent front suspension. Oldsmobile also created the first automatic transmission available which enabled drivers to control the car without depressing the clutch.
The Rocket 88 came out after World War II provided car enthusiasts with a state of the art V8 engine. During the 50s Oldsmobile launched the fiberglass framed Starfire which had a windshield that wrapped around the front of the car.
In the 1960s the Toronado debuted and came with a front wheel drive system. Safety became a priority in the 70s and Oldsmobile offered its Toronado with an airbag on the drivers side. At the same time the well-liked Cutlass was introduced.
In the late 70s Oldsmobile developed a V8 diesel engine as a response to the fuel shortage of the times.
The increasing costs of diesel and problems with the engines forced Oldsmobile to discontinue this equipment. The Aerotech came out in the 80s and was a hit with car buyers. The Cutlass continued to be a success as well.
The debut of the Guidestar in the 1990s allowed Oldsmobile to showcase its newest technology; a navigation program. By the end of the decade, the company was experiencing stagnant sales records. General Motors decided to discontinue to the brand in 2004.
The most recent Oldsmobile models included the Alero, the Bravada, and the Silhouette. The Alero came as a coupe or sedan and had four trim choices. The Bravada SUV had one trim that offered all wheel drive, a six cylinder engine, an automatic transmission, and traction control. The Silhouette minivan had three trim choices and an automatic transmission, speed control, power components, alloy wheels, and a CD player.
When you're looking for the best Colorado Springs Oldsmobile Repair & Service center, come visit us at Joe's Car and Truck Repair.