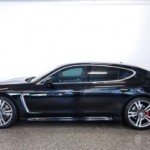 The Porsche brand is renowned for its high performance luxury sports cars. Its vehicles offer power, handling within stylish, premium frames. More recently, the Porsche brand has included other vehicle styles.
Ferdinand Porsche established the Porsche Engineering Office in Germany in 1931. Ferdinand developed his expertise in automotive engineering while he worked for the Daimler company in the 1920s. His designs were used in the creation of the Mercedes SS and SSK that were produced by Daimler. Ferdinand also had an association with the Volkswagen company. His first Porsche cars had similar designs to the Volkswagen offerings.
In the late 40s and early 50s, the Porsche models were manufactured in Austria. The production was later moved to Germany. The automobiles came with air cooled engines that were located in the rear area of the cars.
The 356 Speedster and the 550 Spyder came out in the 50s. Both models achieved high ranking in the racing industry. In the 1960s the Porsche company unveiled its top rated 911 coupe. It came with an air cooled six cylinder engine.
With the 1970s, the Porsche lineup included the 911, the 914, the 924, and the 928. The 956 was reborn in the 80s. It came with a twin turbo engine and all wheel drive and was capable of reaching top speed of two hundred miles per hour. The 944 was launched and the 924 was redesigned to provide more power from its inline four engine.
The Porsche 928 was discontinued and the 968 was introduced in the 90s. During the decade the Porsche company began to experience some financial struggles. The debut of the Boxter solved many of the financial issues. The company rolled out the high performing Cayenne SUV in 2003. The Carrera GT and the Panamera came out not long after that.
The present Porsche models include the 911, the Cayman, the Panamera, and the Cayenne. The Carrera offers a long list of possibilities like alloy wheels, heated mirrors, leather upholstery, touch command display, Bluetooth and iPod interface, navigation technology and satellite radio. The Cayman has four trims and comes with high performing tires, air conditioning, speed control, Bluetooth and iPod interface and a CD player with four speakers. The Panamera sedan gets seven trim choices along with xenon headlights, a sunroof, a rear spoiler, rear park sensory, a V6 engine, a cooling container, heated seating, leather upholstery, navigation technology and an audio system with eleven speakers. The Cayenne SUV provides several trim options and a power operated lift gate, fog lamps, twin region climate control, leather upholstery, a touch command display, Bluetooth interface and an audio system with ten speakers.
For your number one Colorado Springs Porsche Repair & Service center, come see us at Joe's Car and Truck Repair.