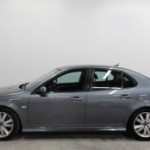 The Saab automobile manufacturer originated in Sweden as the Svenka Aircraft Company. Its first vehicles were produced in the late forties, offering car buyers an aerodynamic design.
The Saab 92 came out in the 1950s along with the 93. The 93 came with a three cylinder engine and an exclusive exterior design. By the end of the decade, Saab had included the 93 750 Gran Turismo and the 95 wagon to its production lineup.
In the 1960s Saab introduced the 96. Its popularity enable the brand to develop an international reputation. Saab also developed the Sport coupe at this time. It was achieved high scores in racing which led to a change in its name. The Sport coupe eventually became the Monte Carlo 850. The Sonett II and the 99 were also introduced in the 60s and were constructed with a plastic frame that was reinforced with fiberglass.
Early in the 70s the 99 Combi Coupe rolled out. It had a hatchback body and a retractable rear seat. Not long after the 99 Turbo was launched with turbo technology along with the 900 which had air filtration in the cabin.
The Saab brand became popular in the U.S. in the 1980s. The company brought out the 900 Turbo, the 900 Turbo Aero, the 900 convertible and the 9000. The Turbo Aero was the first to come with a turbo engine with 16 valves. The 9000 was available as a hatchback and a sedan.
Saab sold half of its company to General Motors in 1990. Soon after the 900 was redesigned to provide innovative safety equipment. At the end of the decade the 9-5 was created and the place of the 9000. The 9-5 had cooled seating and whiplash reduction head restraints.
By the beginning of the new millennium Saab was under complete ownership of General Motors. Due to financial difficulties in the GM corporation, the Saab division was eventually sold. The most recent Saab 9-3 Griffin is available as a convertible, a sedan and a wagon. The convertible comes in three trims: the Turbo, the Aero, and the Independence. It comes standard with power adjustable seating, leather upholstery, full power components, remote entry, speed control, a telescopic and tilting steering wheel with speed and audio controls, cabin air filtration, twin region climate control, a cooling compartment, alloy detailing, a trip computer, seven speakers, a CD player, satellite radio, Bluetooth connectivity, an inline 4 engine, front wheel drive, and a manual six speed transmission.
Joes' Car and Truck Repair center offers the best Colorado Springs Saab Repair & Service in the area. Call or email us today to make an appointment with our friendly staff. We're here to answer your Saab questions and solve any problems you might have with your Saab vehicle.