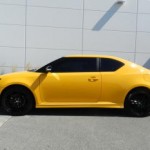 The Scion brand is one of the newest entries to the automobile manufacturing industry, and offers a successful combination of style and affordability. As a division of Toyota, the Scion products also come with the reputation for dependability provided by its parent company.
At the beginning of the new millennium, Toyota determined that it was losing shares in the younger market niche. In response it created the Scion division which first offered the xA and xB vehicles in 2004. Available exclusively in California at their launch, the models were soon available throughout the U.S.
The xA and xB were instantly popular, giving young car buyers a fun, quality ride with a reasonable price tag. The hip design of the model provided ample room for passengers and cargo within a small frame. The interior also offered a state of the art audio system to meet the music needs of the younger generation.
In 2005, Scion rolled out the high performance tC sports coupe which came with a strong engine. The xD was created to replace the xA. Seven years later the iQ and the FR-S were also introduced.
Scion models come with a single trim choice that can be customized to include a range of options including a made to order exhaust and body kits. The brand also provides potential car buyers with an uncomplicated pricing system that reduces any need to negotiate a price.
The Scion name is building its distinction in presenting today's car buyers with a hassle free pricing system, well appointed models, and a terrific list of options. While the product offerings are affordable, they are not lacking in style and enjoyment.
Scion presently produces the iQ, the xB, the xD, and the tC. The iQ comes standard with air conditioning, comprehensive power components, steel wheels, Bluetooth and USB connectivity, a CD player and four speakers. The five passenger xB wagon gets remote entry, air conditioning, full power equipments, steel wheels, speed control, Bluetooth and iPod connectivity, a trip computer, a display screen and a six speaker audio system. The xD hatchback has speed control, a tilting steering wheel with sound controls, air conditioning, a CD player, iPod and Bluetooth interface, steel wheels and six speakers. The tC offers alloy wheels, speed control, a sunroof with a panoramic view, remote entry, full power components, memory functions, a CD player, iPod and Bluetooth interface, eight speakers, and air conditioning.
When you need Scion Repair & Service in Colorado Spring, CO, come see us at Joe's Car and Truck Repair. We offer expert service professionals and top quality products at the best prices around. Call or email us today to make an appointment that fits into your busy schedule 719-266-2845. We're here to help.