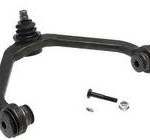 The suspension system in your vehicle affects the safety, stability and comfort of your car, truck or SUV. Joe's Car and Truck Repairs offers a wide range of automotive suspension services at our repair center in Colorado Springs.
Your suspension has a network of complicated parts that work together to provide your vehicle with a smooth and safe riding experience. This network consists of your frame, springs, struts, shock absorbers and either torsion or anti sway bars. The springs absorb both upward and downward forces and maintain the positioning and operation of the tires. The struts and shock absorbers lessen the absorbed energy from the springs to a minimum force. When all of the parts in a suspension system are operating properly, the interior of the vehicle is generally unaffected by any road conditions.
Your vehicle can usually take a great deal of road abuse but over time, wear and tear on your suspension will cause it to malfunction. There are a number of signs that indicate that your suspension needs to be checked. These signs include any pulling by your vehicle to one particular side while you are driving, bouncing when you drive over a bump, wandering wheels that move back and forth, slipping of your steering wheel and problems steering, vibrating wheels as well as screeching sounds at low rates of speed. If these signs are happening to you, come in to see us as soon as possible. We determine what the problem is and provide you with the best recommendations on fixing the problems. Our service professionals will use only high quality products to get your vehicle safely back on the road as soon as possible.
The expert technicians at Joe's Car and Truck Repair are certified in inspecting, diagnosing and repairing your suspension system. We want you to be safe. If you are experiencing any problems with your suspension, come in and we'll provide a free inspection of your vehicle. We know how valuable your time is so contact us by phone or email and we'll schedule an appointment for your vehicles Suspension System.