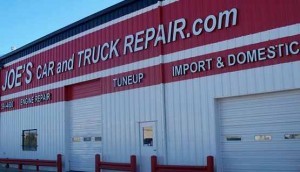 Having trouble slowing down and stopping? Think you brakes need work? For the best Colorado Springs Brake Service come in and see us at Joe's Car and Truck Repair. Our expert service professionals have the know-how to get your brake job done right the first time. We use only the best equipment and automotive parts to ensure that your brake repair service is top quality.
If you are experiencing problems with your brakes, it's important to have them inspected by an expert. Brake problems can lead to a potentially dangerous driving situation. The expert team of service professionals at Joe's Car and Truck Repair will inspect your entire brake system and check for any problems. We'll put your brakes through a series of strict tests to determine whether your brakes need repair. We'll also check your brake lines and drums. Our certified service professionals understand the seriousness of even a small leak in your lines. We want you and your passengers to be safe and we make your safety our top priority.
At Joe's Car and Truck Repair our brake service includes and inspection of your entire brake system, a diagnosis of any problems and if necessary, a consultation on the best repair work plans. We'll inspect not just your pads and shoes, but your wheel cyliners, brake booster and parking brake as well. We'll let you know what needs repair work and what needs to be replaced.
There are several signs that your brakes may need repair. A spongy sensation when you press down the brakes could mean that you have a leak in your brake line. Regardless of the problem, the technicians at Joe's Car and Truck Repair have the expertise to fix the problem. Visit us today for the best Colorado Springs Brake Service around. You can contact us at 719-323-6391 or online by clicking here.