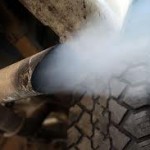 The Emissions from vehicles are responsible for dispersing dangerous toxins such as carbon monoxide and nitrogen oxides into the air. These toxins are known to create smog which can cause a variety of health issues that range from breathing problems to cancer.
Vehicles are now designed with emission controls which keep pollutants from being put into the air and protect our environment from dangerous toxins. Emissions testing are services that must be performed on older vehicles and on automobiles with recent ownership changes. Emissions testing will not only protect the environment by reducing the amount of pollutants in the air, they will also increase the life of your vehicle by improving its performance.
You can do your part in reducing air pollutants from your automobile by keeping it operating properly and maintaining the emission control system. It's important to have your vehicle checked regularly and to have any malfunctioning emission components repaired as soon as possible.
Do you need help in diagnosing an emissions problem in your automobile? Has your vehicle recently failed an emissions test? Did your vehicle fail to pass an inspection because of emission problems such as failure of your oxygen sensor, malfunction of your EGR valves, or issues with your catalytic converter? Our service professionals can determine the cause of the problems and make all of the necessary repairs.At Joes' Car and Truck Repair, we offer the highest quality emissions services around, providing estimates at no cost to you as well as the best diagnostics and repairs you can find.
Our emissions services will help in reducing the pollutants that are emitted from your vehicle. Your vehicle will undergo an emissions test that will help us determine the emissions problem that exists as well as the parts that need to be repaired or replaced.
Feel free to contact us in order to make an appointment for an emissions test or repair work. You can reach us in person, by phone, or by email. The expert technicians at Joe's Car and Truck Repair work on all components of emission control systems in all makes and models. Call us to schedule your vehicle's Emission Repair and Service Today.