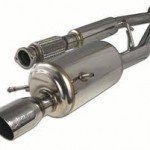 The Exhaust System in your vehicle takes the toxic gases from your engine and sends them away from anyone in the automobile, preventing any chances of carbon monoxide poisoning. The exhaust system also reduces the amount of noise that is produced by the engine. The catalytic converter and the oxygen sensors are important components of your exhaust system. The catalytic converter lowers the amount of pollutants that are emitted. The oxygen sensors ensure operation efficiency of your engine and your converter.
Vehicles today come equipped with exhaust systems that are more than just mufflers and pipes. These systems involve emissions and safety components to prevent any risk of carbon monoxide poisoning. Carbon monoxide has no color and no odor. What it does have is extreme toxicity. Carbon monoxide is dangerous and can be deadly. If you think you have any problems with the exhaust system in your vehicle, call us and we'll check it immediately.
Signs that you might have problems with your exhaust system include persistent loud noises and rattling sounds when you turn the ignition, accelerate or brake. If you are experiencing these symptoms, call us. We want you to be safe and we'll be happy to check your system.
At Joe's Car and Truck Repair our trained and ASE certified service professionals will inspect, diagnose, repair and replace any parts that to be fixed. Our exhaust system services include diagnosing your muffler, exhaust and emissions issues, recommending solutions to your problems, and replacing your muffler, tail pipe, EGR valves, catalytic converter, manifold, clamps, resonator, and exhaust tubing. We also perform state safety inspections.
We use only top quality products and parts to reduce air pollution and excess engine noise, and to improve the performance of your engine. We're certified to provide you excellent service on your domestic or foreign automobile.
Call us or email us to set up an appointment with one of our friendly staff members. We'll inspect your vehicle and let you know what exhaust system problems you have. We'll recommend any necessary repairs and complete the work in no time. We're proud to offer you the best Exhaust System Service and Repair at the most affordable prices.