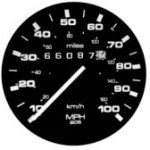 Have you scheduled the important 30,000 Mile Service in Denver for your new (or new to you) vehicle yet? This important examination is crucial to maintaining your car for maximum productivity. Joe's Car & Truck Repair is an expert in this service for all types of makes and models in the Denver area.
The 30K Mile Service helps to avoid costly repairs and breakdowns by catching potential issues before they become real problems, it saves time and money and extends the life of your vehicle. It also makes your car run more efficiently and can save gas mileage. Life is less stressful when you know that your auto is running at its best.
The knowledgeable and honest technicians at Joe's Car & Truck Repair have extensive experience to perform an excellent tune up that consists of:
• 50 point safety service (including, but not limited to brake lines, wheel balancing, CV joints, clutch, engine fan, etc.)
• check all fluids and top off if needed
• inspect the A/C and heater air flow and function
• drain and change engine oil and replace oil filter
• test the battery and service
• flush the transmission, brake, power steering and engine fluids
• replace air and A/C filters, brake fluid, serpentine belts, PCV valve and wiper blades
• rotate the tires and check air pressure
Contact the professionals at Joe's Car and Truck Repair at 877-365-0308 for your 30,000 Mile Service in Denver today.