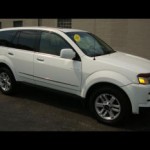 The Isuzu corporation is a partner of the General Motors corporation and manufactures trucks and SUVs.
The word Isuzu translates as "fifty bell". The name came from a river located in the Japan. Isuzu was founded in 1916 when the Tokyo Shipbuilding and Engineering Company opened its automobile division. The company joined forces with Wolseley Motor Company two years later. The first car produced was the A9. That model was followed by the CP truck. By the late 40s the company changed its name to Isuzu.
After World War II, Isuzu was producing record numbers of trucks. The growth in production helped Japan to get back on its feet. After building an alliance with the U.K. based Rootes corporation, Isuzu unveiled the Hillman Minx car in the early 50s
More cars were launched in the 60s including the 117 coupe, the Bellett and the Florian. The WASP truck also started production. By the 70s, the Isuzu company had joined with General Motors and went on to produce the Gemini.
Isuzu began exporting its vehicles to the United States in the 80s. The first export available to the American public was the Pup. Not much later the Trooper SUV was also available. In 1987 Isuzu partnered with Subaru and began producing the Rodeo, the Isuzu pickup and the I-Mark sedan. Throughout the 90s, Isuzu maintained strong sales records, particularly due to the popularity of the Trooper.
The turn of the millennium brought with it, more competitive vehicles, leading to a drop in sales for the Isuzu brand. Several models were dropped from the lineup. The most recent vehicles produced by Isuzu are the Ascender SUV and the i-Series truck. The Ascender has a single trim that is available with a four or rear wheel drive system. The standard components include twin region air management, velour upholstery, power locks and windows, and a sound system with a CD player. Optional features include power adjustable driver seating, heated exterior mirrors, a sunroof, heated seats, satellite radio, and an upgraded audio system.
The i-Series compact pickup comes as either an –290 or and i-370 model. Both models are available with a six foot bed and an extended cab. Only the i-370 can be purchased with a five foot bed and a crew cab. The standard components on the i-290 include speed control, split bench seating, vinyl upholstery, and air conditioning. The i-370 adds to that bucket front seating, comprehensive power components, an upgraded sound system with six speakers and remote entry.
For the best Isuzu Repair & Service in Colorado Spring, CO, come in and see us at Joe's Car and Truck Repair. Our trained technicians offer expert maintenance and repair service and use only the best products available. Call or email us today to make an appointment. We'll have you in and out in no time.