At Joe's Car and Truck Repair, our expert Colorado Auto Repair technicians have the experience needed to provide you with top quality service. Whether you need your oil changed or your transmission needs and complete overhaul, our technicians are committed to giving you the best service possible.
Our comprehensive automotive repair shop has been maintaining, diagnosing and repairing vehicles in the Colorado Springs area for years. We understand that you deserve only the best and we're proud to provide the best customer service around.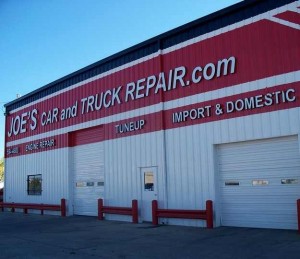 The expert technicians at Joe's Car and Truck Repair are ASE trained, tested and certified. They use only the most innovative diagnostic and repair technology to maintain and repair any make or model of domestic and foreign vehicles.
We are proud of the high quality auto repair services we provide and we're confident that you'll be back time and time again for all of your repair needs. Check out our repair services online or contact us to learn more about the services we offer and schedule an appointment for an oil change, coolant flush, transmission flush, engine tune-up, brake adjustment, muffler repair,  inspection, air conditioner repair. Whatever the reason you have for your visit to our service center, at Joe's Car and Truck Repair we're here to give you the best possible service and the most affordable prices in the Colorado area.
Family owned and operated for 45 years, Joe's Car and Truck Repair is one of the few places in the Colorado area where you will get service with an A+ rate from the BBB. We're proud of our service awards and we look forward to giving you the best automotive and customer service possible. Call or come in to see us today. you can reach us at 719-323-6391 or online by clicking here.